Home
of Easy Travel Reports Travel Guide
Port of Dover, Cross-Channel Ferry English Ports

UK's busiest ferry port, From January 09, commercial contractors will run many of the port operations such as mooring and tug boat work, and security services, affecting 190 jobs.  Pensions will be threatened by outsourcing.   DHB has future plans for a thousand new jobs.The former Hoverport at Western Docks will become a second ferry terminal, new marina and new berths. Midweek is the peak for volume of freight.

What is
operation stack
?  Police use sections of the M20 to queue delayed lorries, between junctions 11 and 12
11/14/08 Ouch! Speedferries

Gone bankrupt, Dover to Boulogne, pre booked? Rumor going around that they owed port fees. Check
web site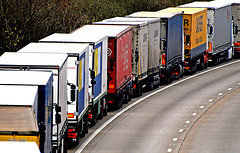 This is what Operation Stack looks like. M20 into a lorry park.

Abou
t Easy Travel Report.com






                                                       See who else is on strike
today?
Custom Search